This completely natural and 100% pure oil has been used in a wide variety of applications with outstanding success.
Tested by independent research to be the most active anti-inflammatory agent, "Emu Spirit" Oil of Emu has been used exclusively by Australia's Track and Field Team during the 1996 Atlanta Olympics, 1997 IAAF World Championships, and the 1998 Commonwealth Games in Kuala Lumpur.
Australia's top Athletics use "Emu Spirit" Oil of Emu as pre and post performance massage oil, as a treatment for damaged muscles and for disbursement of bruises and blisters.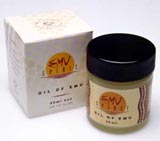 In addition to the treatment of Arthritis, this product has been used treat the following ailments: Minor Burns, Skin Rashes, Eczema, Psoriasis, Muscular Aches, Blisters, Sunburn, Cradle Cap and Nappy Rash.

Apply a small amount to effected area 3 to 4 times a day.

| | |
| --- | --- |
| O30M | 30ml |
| O60M | 60ml |
| O125M | 125ml |
| O500M | 500ml |
| O1L | 1 litre |
Prices:
30ml DKK 59.00
60ml DKK 89.00

500ml DKK 248.00
1000ml DKK 398.00
to order click here