"Emu Spirit" Night Cream is a rich-nourishing combination of Oil of Emu, Aloe Vera, Vitimin E and Squalene, in a luxurious cream base.
Scientifically formulated to deeply penetrate and hydrate the skin, then 'lock in' the moisture with a smooth greaseless invisible barrier preventing further moisture loss during night time rest.
Fine lines are reduced, leaving the skin smooth, soft and younger looking.
This cream is Petro Chemical Free, uses only natural ingredients and is safe for all skin types.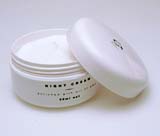 Apply liberally to the face after cleansing and before retiring for the evening. Can also be used as a day cream on very dry skin.

Code: NC50
Size: 50ml
Price:

50ml Night Cream DKK 119.00
to order click here