"Emu Spirit" Hand & Body Lotion combines the Moisturising and Penetrating properties of Oil of Emu with Aloe Vera and Vitamin E to provide a highly moisturising, all natural products suitable for all skin types.
This light non-greasy lotion hydrates the skin well below the surface and uses Oil of Emu to moisturise and to assist the penetration of the Aloe Vera and Vitamin E. This product is uniquely formulated to 'lock in' the hydrating activities' giving long lasting protection.
In addition to every day use as an all over hand and body treatment, "Emu Spirit" Hand & Body lotion is used by professionals such as Hairdressers to protect their hands from the ravishes of chemicals used in the course of their day. Hairdressers find the non-greasy, quick absorbing and restorative properties of this lotion protect their hands whilst allowing them to carry out their duties.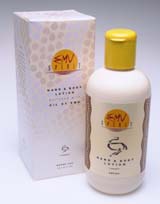 This lotion is Petro Chemical Free, uses only natural ingredients and is safe for all skin types including babies.

Apply liberally to hands and body. Most effective after bathing and prior to retiring for the evening.

Code: HB250
Size: 250ml
Price:

250ml Hand and Body Lotion DKK 109.00
to order click here